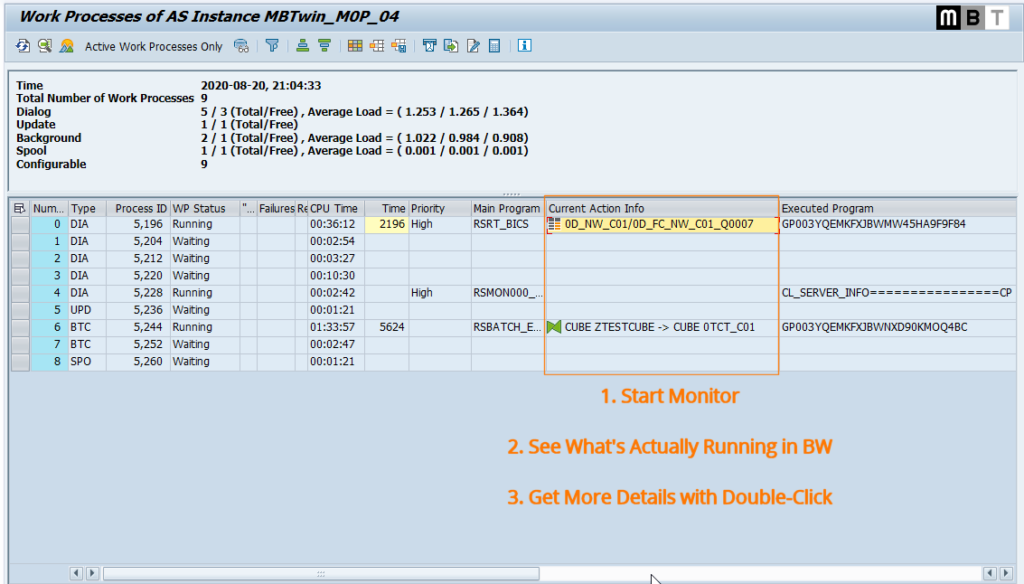 MBT System Monitor is an enhancement for standard system monitoring transactions to display details about BW processes. SAP BW and SAP BW/4HANA generate programs for many essential processes and one only sees the cryptic GP… program names in the monitoring tools. It's a manual and cumbersome act to figure out what exactly is running on your BW system. The enhancement resolves the generated program names to the underlying BW processes and related objects and displays this information instead of the GP… name on the monitor screens.
For example, instead of GP003YQEMKFXJBWMW45HA9F9F84 you might see "Query: 0D_NW_C01/0D_FC_NW_C01_Q0007". On the detail screen for the process, the enhancement will provide additional properties of the process like its description.
Screenshots
Hover over the picture to get an explanation or click it to enlarge the screenshot.
Disclaimer
The tool can also be used in other ABAP-based SAP systems. However, we test only on SAP BW and SAP BW/4HANA® and can therefore not support other use cases like running on SAP ERP or SAP S/4HANA®. Nevertheless, please let us know if there are issues and we will try our best to extend the tool supporting these cases as well.