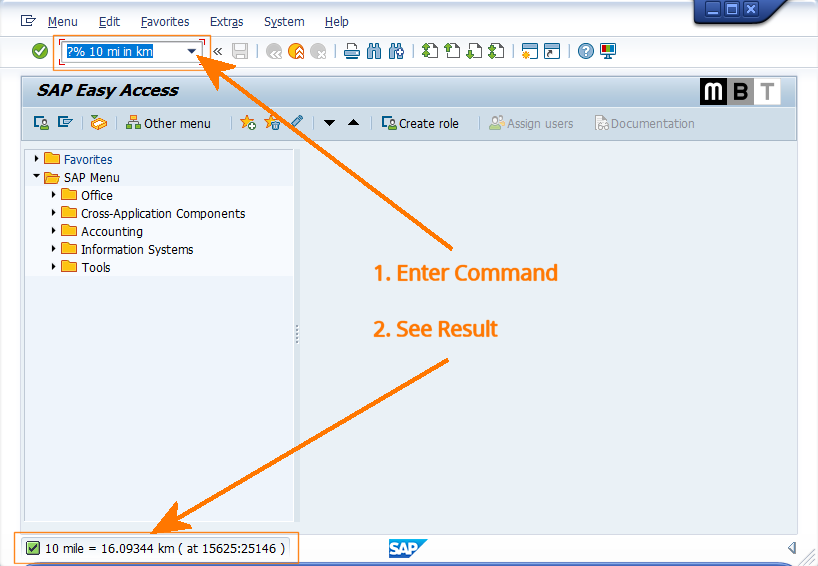 MBT Command Field is the ultimate enhancement of the SAP GUI command field for developers and others configuring, enhancing, or testing SAP systems. Everyone knows the "little box" at the top of an SAP GUI window and developers use it many times a day. But as far as we know, no one has ever provided new features for this command interface. Well, Marc Bernard Tools has found a way to do it and you won't believe the cool things you can do with MBT Command Field:
With the first version, you can already…
Show object: Jump to the maintenance screen of objects
Run object: Display data stored in database tables, view, or BW InfoProviders or execute programs or function modules
Calculate: Evaluate any formula with access to system variables, profile parameters, and component version details
Convert currencies: Do a currency conversion based on rates stored in the system
Convert units: Perform a quantity conversion from one unit to another
Find support information: Jump to and search on SAP ONE Support Launchpad
Select and browse objects including use of wildcards
And when we talk of "objects" here, we mean anything you can create in DDIC (tables, views, data types, etc.), ABAP (programs, classes, functions, etc.), or SAP BW (InfoObjects, InfoCubes, DataStore objects, transformations, etc.)!
Screenshots
Hover over the picture to get an explanation or click it to enlarge the screenshot.
Disclaimer
The tool can also be used in other ABAP-based SAP systems. However, we test only on SAP BW and SAP BW/4HANA and can therefore not support other use cases like running on SAP ERP or SAP S/4HANA®.