When starting Marc Bernard Tools, the system will display a list of all active tools.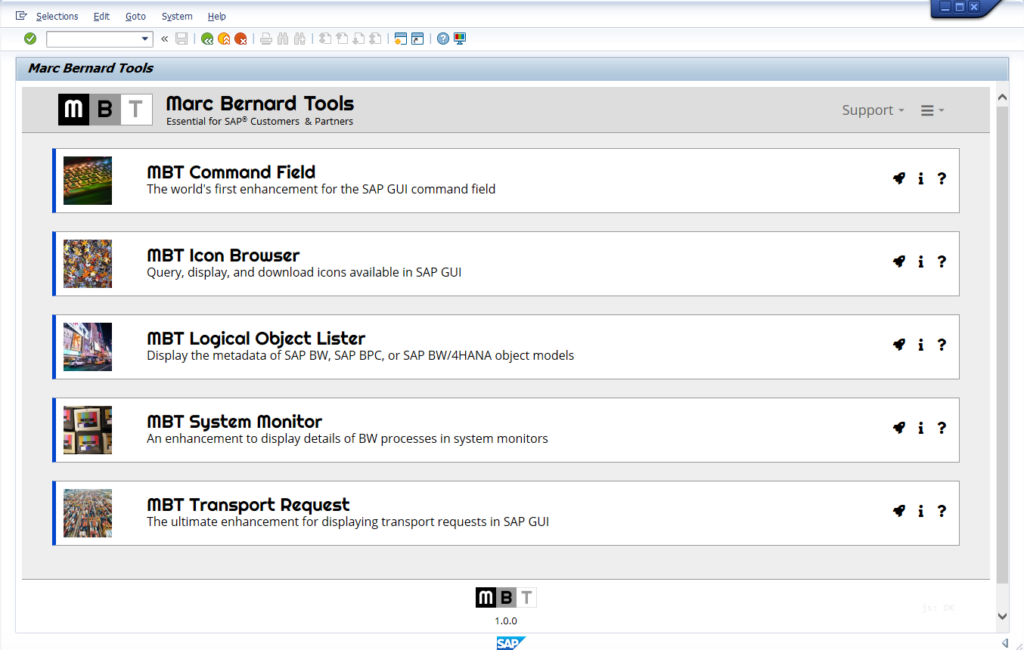 For each tool, the system will show its name and a short description. You can select from the following actions:
Launch a tool
View more details about a tool
Display the documentation for a tool
View frequently asked questions and answers
Create a support ticket
Launch Tool
Tools can be started by clicking on the launch icon. Note that some tools provide enhancements to standard SAP transactions and therefore the launch will simply start the corresponding transaction.
Tool Details
You can display more information about a tool by clicking the info icon. This is typically a description of the core features provided by the tool and corresponds to the information you would also find on the MBT Website.
Tool Documentation
The documentation for each tool is available publicly on the MBT Website. You can jump to it directly from the launch pad. Alternatively, access the documentation of all tools using "Support > Documentation".
Frequently Asked Questions
FAQs about Marc Bernard Tools can be accessed via "Support > FAQs".
Support Tickets
Not everything is perfect. If you have any questions and something isn't working as expected, please contact Marc Bernard Tools using "Support > Create Ticket".